By nurturing innovative thinking, we create an environment that's adventurous and collaborative. An environment where powerful change begins, all within a culture that's playful and inquisitive. We aim to transform the future for individuals, communities, businesses and government.
We are agents for change, driving public innovation.
GridAKL / Futures Lab / Level 4, 12 Madden St / Wynyard Qtr
What is GridAKL / Futures Lab?…
Overlooking the stunning Waitemata harbour and bridge, GridAKL / Futures Lab is a unique space where working collaboratively, we can make positive systemic and exponential change to the problems and challenges facing our city. It is a place that invites you to come in, take a seat (actually, in the lab you'll need to build the seat first) and play a part in doing this through inspired creativity and innovative thinking.
GridAKL / Futures is a public innovation lab that creates collaborative opportunities for government, businesses and communities to develop ideas that will address some of Auckland's complex urban, economic, social and sustainability challenges.
Together we aim to make Tāmaki Makaurau a more prosperous, cleaner and equitable city for all to enjoy.

GridAKL / Futures Lab is a space to develop, incubate and test ideas for change, building on our collective experience, innovative methodologies and open platforms.

Experiential training, coaching and leadership development, we help government agencies to create successful innovation and foster a new generation of public entrepreneurs.

We aim to share stories, experiences and lessons learnt to build practice, knowledge and participation in public innovation.
We build networks of innovators, experts and communities that share collective experiences to design and test ideas for positive impact on our world.
/ GridAKL / Futures Lab  is kitted out with colourful comfy couches, multiple whiteboards on wheels, workshop stationery and post-it notes galore !
/ Our unique Bene-boxes can be constructed in many ways to suit your workshop needs
/ Do you meet the criteria
to use GridAKL / Futures lab?
We have strict criteria for using the Futures lab- it is not a commercial venue for hire. If your event is focused on outward-facing public innovation, please get in touch. Contact us with the form below or email: catriona.stewart@gridakl.com
Users to date have included Auckland Youth Leaders working on Auckland's Climate Action Plan, Smart Cities Workshop focusing on mobility, security, environment, and infrastructure, and Auckland Airshare Challenge integrating drones into Auckland's air space by best practice usage in a dense urban environment. Plus many other public sector agencies working to improve the quality of life in Tamaki Makaurau.
Our sweet spot are organisations wanting to collaborate with community, private and public sectors finding solutions to the challenges facing our people. We do events and activations that are free to attend, ranging from 1 hour events to multi-day bookings.
Please tell us about your organisation and your event- what is the purpose of your activity? Contact us using the form above or email catriona.stewart@gridakl.com
NB. Depending on the nature of your event, usage fees may apply.
GridAKL / 12 Madden St
Address 12 Madden Street, Wynyard Quarter, Auckland 1010
GridAKL / John Lysaght Building
Address 101 Pakenham Street, West Wynyard Quarter, Auckland 1010
GridAKL / Futures Lab
AddressLevel 4, 12 Madden Street, Wynyard Quarter, Auckland 1010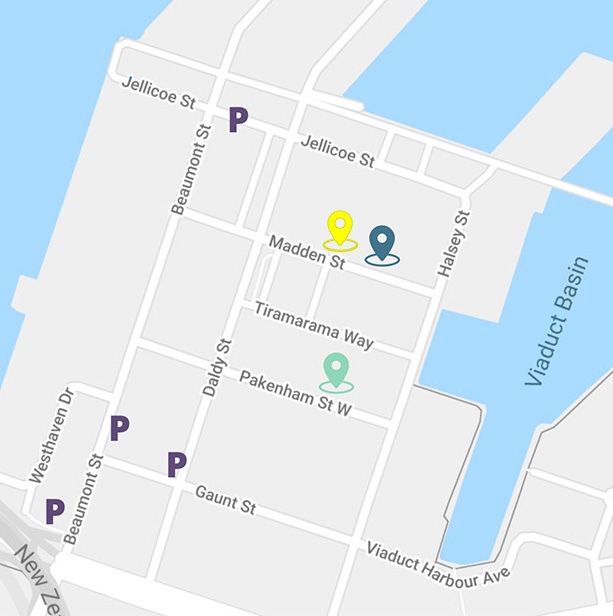 GridAKL / 12 Madden St
Address 12 Madden Street, Wynyard Quarter, Auckland 1010
GridAKL / John Lysaght Building
Address 101 Pakenham Street, West Wynyard Quarter, Auckland 1010
GridAKL / Futures Lab
AddressLevel 4, 12 Madden Street, Wynyard Quarter, Auckland 1010
1.5KM – Britomart Transport Centre
2KM – University Campuses