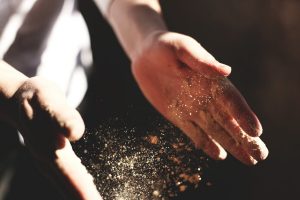 Five inspiring young New Zealanders each took a share of the $25K in prizes for The Impact Awards across five major categories – climate, enterprise, global, inclusion, and wellbeing. This year they received a record number of entries, with a combined total of 400+ applications and nominations, and every region of New Zealand was represented. Lysaght resident Jayden Klinac is one of them and received the Impact Award for Climate at the Award Ceremony, on 18 November.
This award aims to celebrate and support young New Zealanders demonstrating leadership and taking action to help reduce carbon emissions and support the transition to a more resilient, low carbon future. As the entrepreneur and founder behind For The Better Good and Edible Earth, Jayden Klinac is driven by a mindset that sees problems as opportunities.
Jayden has not only re-designed and produced New Zealand's first biodegradable & compostable water bottle made from plants, but is also working to completely redesign the system to reduce carbon emissions, reduce waste, and sequester carbon. This includes setting up a network of free water refill stations throughout the country; the first collection system for compostable water bottles; the first inner city compost hub, in Auckland, and with development underway to build out NZ's first privately operated and decentralised composting network throughout Aotearoa. Jayden and the team are using profits to help set up and support local urban food systems, and have diverted 40,000kg of food waste and packaging from landfills in the past 12 months.
The $5,000 prize money will help to expand the community composting system, and employ a gardener to help lead a new local community chapter for this in Wellington. The intention is that with enough compost, they will start growing local food for that community, and run workshops on composting and growing food for locals who would like to learn. Find out more about the other winners here: https://www.theimpactawards.nz/2020-winners