GridAKL is home to events designed to connect, inspire and inform the innovation, tech, growth and startup ecosystem in Auckland. We have stunning purpose-built GridAKL spaces to suit all your events; from small and intimate meet-ups to large-scale conferences or exhibitions.
Switch event view

The Hunger Project: Rethinking What's Possible September 2019
September 19, 2019 @ 9:00 am

-

1:00 pm

$495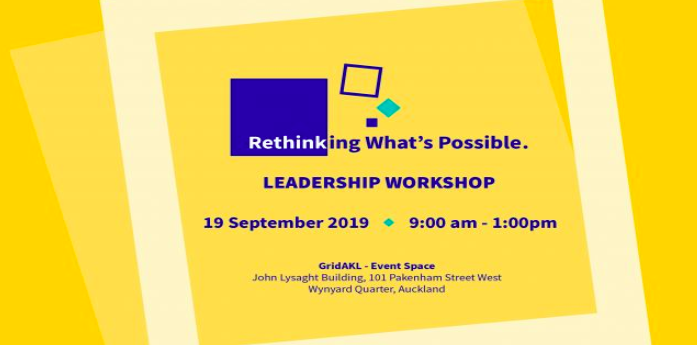 This is a truly unique workshop that explores the fundamental characteristics of effective leadership told through the lens of the world's most unlikely leaders who, against all odds, are shifting beliefs and creating significant change. You'll be challenged to re-think traditional leadership models, gain a fresh perspective on leading in the 21st century, and discover the tools to unlock your leadership edge.
In order to end hunger globally we needed to create sustainable solutions that move past aide and food. As a result, The Hunger Project has developed a methodology that allows us to partner with people living in hunger. We support them to become leaders that are nimble, resilient, willing to take risks, and who inspire andmotivate others to sustainably end hunger and poverty in their communities.
The reality is that this kind of leadership is required everywhere. From the plains of Africa to the cities of New Zealand.
Rethinking What's Possible (RWP) is a half-day workshop that allows you to reframe challenges and ultimately rethink what's possible for yourself and your organisation.
Anchored in The Hunger Project's 5-step Methodology to Effective Leadership which has been developed over 40 years, RWP unlocks people's leadership potential, enhances personal (and organisational) performance, and ultimately enables individuals, groups and communities to successfully navigate change.
Using a unique combination of storytelling, personal reflection, group shares and facilitated conversation, we explore the fundamental characteristics of effective leadership through the lens of the world's most unlikely leaders. People who, against all odds, are shifting beliefs and creating significant change.
RWP is not textbook learning. We intentionally facilitate the workshop in a small group setting to enable an interactive learning environment. It's an opportunity to step out of your everyday world to be inspired by the stories of courageous real life leaders and rethink new possibilities for purposeful performance.
As we are a registered charity committed to the sustainable end of hunger, the ticket cost that you pay to participate in our workshop and gain insights into your own leadership journey will also help to facilitate the leadership development of someone living in hunger.
How is RWP different from other leadership programmes?
At the core of RWP are the insights we share. They are based on the work that we do in India, Bangladesh, Africa and Latin America, where hunger and poverty is at their worst, and where the principles of our leadership development have led to the end of hunger for millions of people.
What will you gain from RWP?
This workshop will help you:
Examine mindsets and limiting beliefs that stop you from achieving leadership potential.
Identify and articulate what leadership means, regardless of job title.
Unlock leadership for the 21st century and be ready to face change and disruption.
Set an achievable and sustaining vision for the leader you want to be.
Commit to actions needed to get you where you want to be!
Individuals who are:
Managing a team and looking for new ways to unleash their own and their group's potential.
At a career or development stage where they are seeking new and unique ways to define their next leadership edge.
Looking to expand their personal voice and influence in an impactful manner.
HR & Learning & Development practitioners who are:
Seeking a truly unique leadership development programme to take back to their organisation.
Looking for a way to unlock capacity, courage and resilience across all levels of their organisation.