GridAKL is home to events designed to connect, inspire and inform the innovation, tech, growth and startup ecosystem in Auckland. We have stunning purpose-built GridAKL spaces to suit all your events; from small and intimate meet-ups to large-scale conferences or exhibitions.
Switch event view

Agile Coaching Meetup : Coaching Dojo #1
April 16 @ 6:00 pm

-

7:30 pm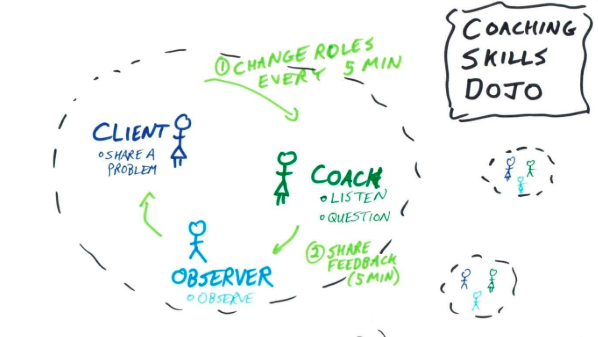 Join our dōjō to practice your coaching skills!
What is a dōjō?
A dōjō (道場) is a hall or space for immersive learning or meditation. This is traditionally in the field of martial arts, but has been seen increasingly in other fields, such as meditation and software development (and now also Agile Coaching!).
What does coaching dōjō mean?
It will be a space for the immersive practice of coaching. Imagine a place where you can come and try out new coaching techniques, get feedback, give feedback and learn from your successes and failures? This is what coaching dōjō is about!
But why?
Coaching is one of the four main skills of every Agile Coach (along mentoring, teaching and facilitating) and for many of us coaching is the hardest skill to master. Way too often we go back to the mentoring mode, giving pieces of advice and sharing our points of view. Guess what, asking questions and giving space to reflect and come up with actions is hard, it's extremely hard! That's why we want to create a space for deliberate practice of coaching.
How?
Our coaching dōjō will be based on the idea from software development – Code Kata. In Code Kata we get developers together, we give them a problem, ask them to work together and allow them to learn from each other. And to make things a bit more challenging and to help with discovering new insight and building new skills, we add small challenges.
Our coaching dōjō will be very similar. We will come together, work in groups of 3s, one person will be a coach, one will be a coachee and one will be an observer. We will run 3 rounds of 10-15 minutes coaching so everyone will get a chance to be a coach. At the end of the round, the coach will hear feedback from the coachee and from the observer. In every session (this will be the 1st one) we will work with different challenges and/or different coaching techniques.
What's next?
Come and join us! 🙂
Related Events